Fall Maintenance Tips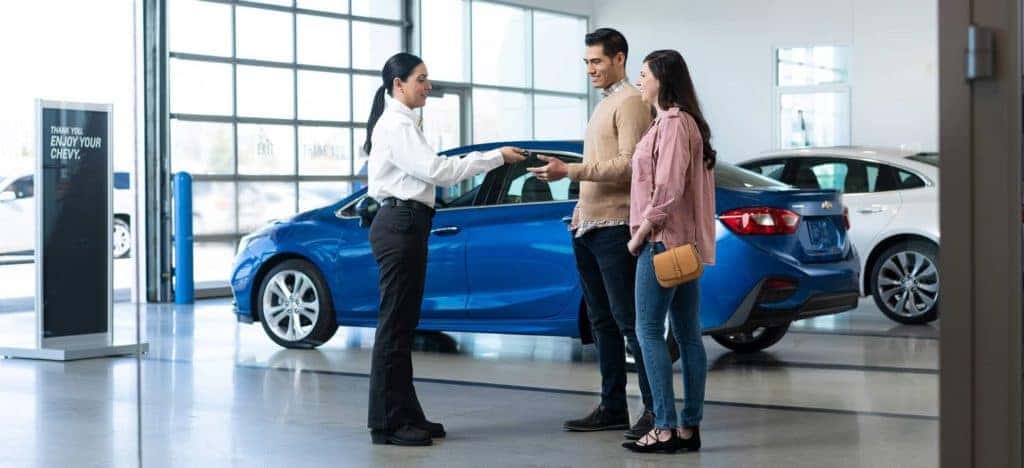 Schedule Service Service Offers Certified Service Center Contact Us
Regardless of whether you drive a new or used Chevrolet, Buick, or GMC model, it's a good idea to give it a little TLC when autumn rolls around. Seasonal maintenance will prepare your vehicle for Ohio's winter weather while giving you a chance to spot any issues and have them serviced by the experts at Steve Austin's Auto Group in Bellefontaine. Here's a rundown of essential fall maintenance items — and the issues you should look out for.
Check Out The Tires
Well-maintained tires are necessary for safe handling and good traction. First, check the pressure when the tires are cold, then adjust it to the pressure recommendation on your car's door jamb or owner's manual. Then, using a dedicated gauge, look at your car's tire tread depth at the inner, outer, and center of the tread. If any of those measurements fall below 1/8 of an inch, it's time for new tires. We'll help you find the perfect set at our service center.
Fill Up On Fluids
Fluids keep everything running smoothly inside your car. Check the oil for both volume and clarity, and make sure your car has sufficient amounts of coolant, transmission fluid, power steering fluid, and brake fluid. It's also a good idea to glance at your vehicle's service records, so you can see if it's time for an oil change or fluid flush.
Brush Up On Brake Maintenance
Every vehicle needs fully functional brakes — especially during the snowy and rainy season. Typically, it's recommended that you check your car's brake pads twice a year. If they have 4mm of material on them or less, it's time to have them replaced. However, it's essential that you're precise when measuring this since just 1mm can make a major difference in your safety. That's why it's a good idea to have your car's brakes inspected by the professionals at Steve Austin's Auto Group.
Help Out Your Headlights
As the days grow shorter — and foggy, rainy weather comes to the Bellefontaine area — you'll find yourself using your headlights more often. Maximize your visibility by ensuring that your car's headlights are at their best and brightest. Have a friend or family member help you check if your vehicle's headlights are working properly. If they look inordinately dim, the bulbs may need to be replaced, or the headlights themselves may be foggy. You can replace the bulbs and polish the headlights yourself — or save yourself the hassle by bringing your vehicle to our service center.
Keep It Clean
Winter is right around the corner so don't let your vehicle's exterior get eaten away by salt, slush, and road grime. Give it a thorough wash to clear away summertime debris, like bug splatter and bird droppings, then coat your vehicle with a protective barrier of automotive wax to keep rust at bay.
Inspect The Battery
A bad battery can leave you stranded. Make sure your vehicle's battery is firmly connected and free of corrosion. If you notice corrosion, disconnect the battery and clear away the debris with a wire brush. Some batteries may need to be refilled with distilled water. You may also want to check how long it's been since you've replaced your car's battery — it's due for a new one every three years. At our service center, we'll gladly evaluate your battery and replace it if necessary.
Clean The Windshield Wiper
It's easy to take windshield wipers for granted, but they need maintenance too. They typically need to be replaced once or twice a year. If they're not cleaning your windshield properly or leaving streaks, they may be dirty. You may be able to get a few more weeks or months out of your wipers by washing them with some glass cleaner and a cloth. However, if the problems persist, or you notice cracks or tears in the wipers, it's time to replace them.
Check The Heater
You probably haven't used your car's heating system all summer, and you don't want to find out that it needs repair when you're commuting to work on a chilly fall morning. If your vehicle can't seem to warm up, it may have a bad water pump, a malfunctioning thermostat, or a faulty heater core. Our factory-trained technicians can easily diagnose and fix these issues. And if your car's heated seats or heated steering wheel are not working, you should also have them inspected by the experts as well.
Fall is just about here, and winter is right around the corner. We'll help get your vehicle's maintenance up to speed at Steve Austin's Auto Group in Bellefontaine, Ohio.