Tips for Towing with Your Pickup | Bellefontaine, OH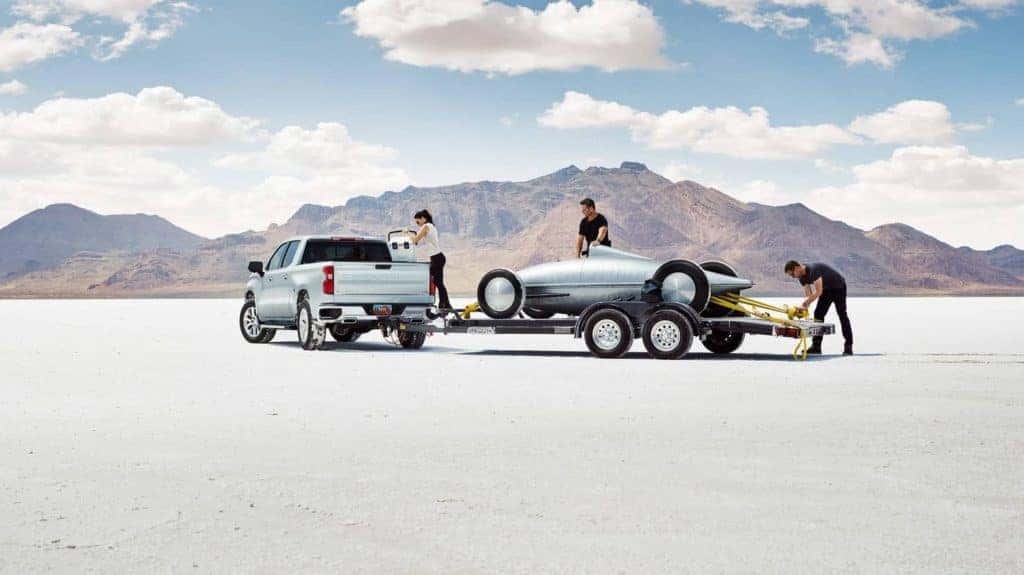 Shop Chevrolet Trucks Shop GMC Trucks Value Your Trade Contact Us
Whether you're towing a small trailer, a boat, or sports equipment, there are many important tips to keep in mind while towing with your Chevrolet Silverado 1500 or GMC Sierra 1500. From driving on the road to back into a parking spot, these tips make towing a more enjoyable, safe, and stress-free experience.
Inspect The Vehicle
Before hitting the road, double-check the equipment. You should always check the tire pressure, even for the spare tire. Also, be sure to top off any fluids and fill your tank before you leave. After the first 15 minutes of driving, pull over to make sure everything is still connected properly.
Drive Slowly
Trailering will affect your stopping distance, which is one reason why you need to drive slower than normal when trailering. Your steering will also have a slower reaction time, so make sure to slow down to give it more time to react. You should also make sure to use the right lane on the highway so that you don't slow down traffic.
Plan For Parking
Curbside parking is the easiest when trailering, but if you need to park in a lot, choose an emptier area so you can better avoid cars. Before parking, know ahead of time how you'll exit your spot. Even if you find a good parking spot, be aware that you may need to swing wide to leave the lot.
Back Up Carefully
Practice makes perfect, especially when it comes to backing up a trailer. Try your hand at reversing with an empty trailer before taking any trips and use a spotter when possible. Looking over your shoulder, put your hand at the bottom of the steering wheel, and then take it slow. If you mess up, simply pull forward to realign. Most of all, have patience and give yourself plenty of time to back up.
Need more towing assistance? Give us a call at Steve Austin's Auto Group in Bellefontaine, Ohio, and we'll be happy to help you however we can.